Posted: March 8, 2023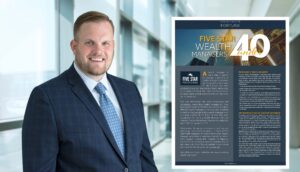 Mark Booth, a young and dynamic financial advisor, has recently been awarded the prestigious Five Star Wealth Managers Under 40 Award and featured in Fortune Magazine for his exceptional contribution to the financial industry. As a seasoned professional, Mark has established himself as a advisor, working closely with clients to create personalized investment strategies around their unique financial goals.
In addition to his accomplishments as a wealth manager, Mark is currently pursuing a Master of Business Taxation at the University of Minnesota's Carlson School of Management. Furthermore, he is a CERTIFIED FINANCIAL PLANNER™, a testament to his commitment to maintaining the highest standards of professionalism in his field. With his combination of experience, education, and dedication, Mark Booth is poised to continue making a significant impact in the world of wealth management for years to come.